Toru NAKAMOTO : Fukagawa Winery
"Small Winery weaves the story of neighbors into bottles of wine."
The Wine Man, Toru NAKAMOTO had been working in China and started his own company. After 15years, he had decided to start the small winery in the cities. He wrote his story as a wine man of story book. Always he'd love to weave their wine into the story of neighbors's.
- Love to make the dairy wine for neighborhood's dairy happiness.
- Open the winery for neighbors to come and taste freely.
- Serve the special wine for neighbors' big life events.
- Show the wine's story "Farmers to Makers to Tables".
- Keep enjoying and improving their wine with neighbors.
You will see the wine man's story at the fukagawa winery, not only his but also the fukagawa winery staffs', too.
Kosuke UENO (JSA Certified wine advisor/U.J.Œ.Union Japonaise des Œnologues) is the Chief Wine Maker who graduated in Yamanashi Univ. where is one of the most famous area as wine product area in Japan and has been working as a winemaker for 18years, Shiga, Niigata and here in Tokyo.He really loves wine and brewing, everyday checking and managing the taste to suite on Japanese cuisine dishes.
Kenji MORIYA is the Chief chef. After graduating Musashino Art University, he had been working at the famous Sushi restaurant in ginza for.He develops new dishes mixed Japanese taste for 九吾郎 (Kyugoro) wine table and deliver dishes to this winery every day.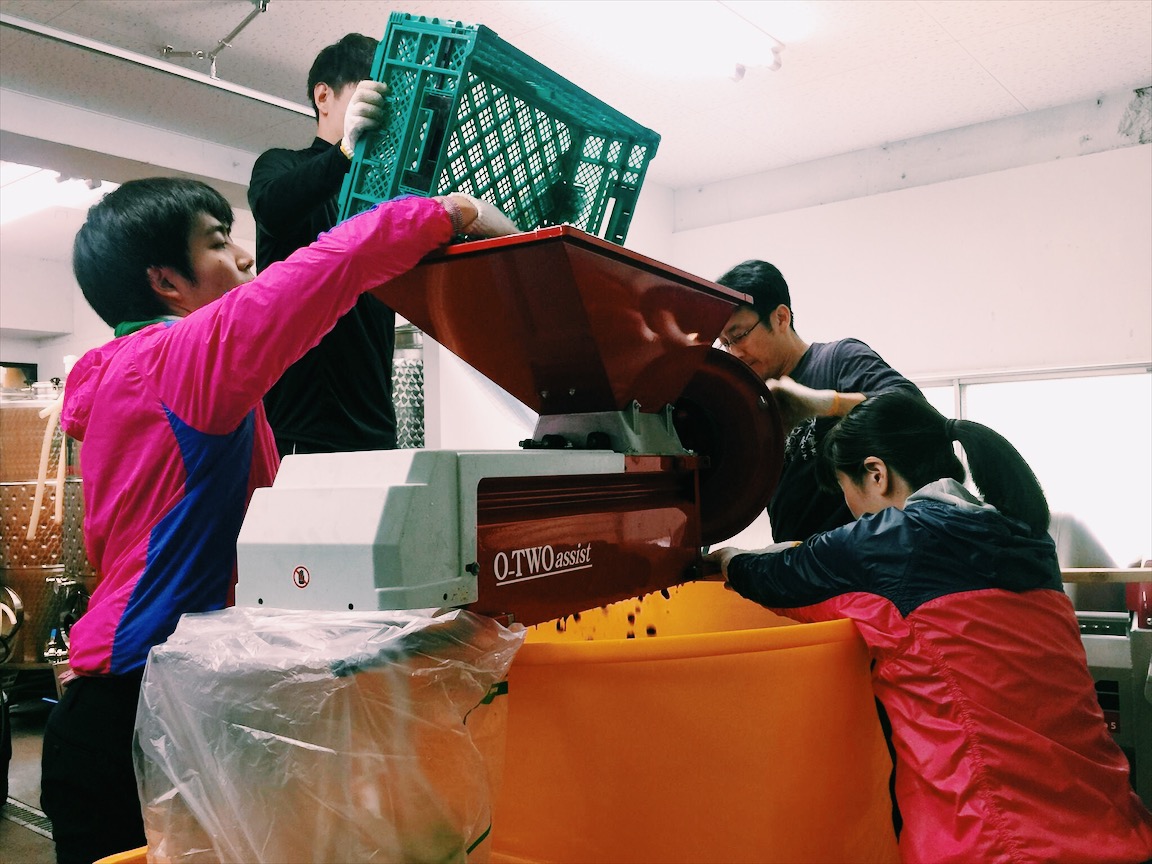 Spot Informations [Fukagawa Winery]
ADRESS:1-4-10 Furuishiba,Koto,Tokyo,Japan
OPEN: Monday to Sunday 10:00am-6:00pm *Friday to Sunday, Holiday until 10:00pm
URL: http://www.fukagawine.tokyo
☎︎ +81 3-5809-8058
Spot Informations [KYUGORO Wine Table]
ADRESS:1-3-10 Shirakawa,Koto,Tokyo,Japan
OPEN: Monday to Sunday 5:00pm-11:00pm * Saturday Sunday, Holiday 12:00pm-2:00pm
URL: http://q56.tokyo
☎︎ ++81 3-5875-9516