Hirotaka and Mayumi TOBIMATSU : Toki TOBIMATSU / Mayumi : U'U'
"The work of pottery is not completed until it is used. The people of the town have been nurturing our work."
When visiting the "gift_lab GARAGE", you will see a lampshade with an unusual shape. What captivates the observers are the gently way it lets in the light and its design that evokes nostalgia without being old-fashioned. When the observers inquire as to who created it, they would be told that it is the creation of the pottery artist of "Tobimatsu Pottery" who lives in the neighborhood.

Mr. Hirotaka TOBIMATSU hails from Saga Prefecture, which is known for being the production area of ceramics. He has been familiar with fine ceramics, Arita Ware, that lined the dining table at home before he could understand what they were. He entered Tama Art University and started "nature and ceramics" as a field of fine art.

The turning point in his career after graduating from the university was his encounter with a milky white lampshade in an antique fair. Such lampshades had been widely used in offices half a century ago, but having been superseded by fluorescent light, they disappeared briefly. What captivated him was the lean design of the lampshade. He felt that had it not been for florescent light, such lampshades would still be illuminating our lives.He wondered if it would be possible to pass on what had been cherished in the old days in the shape that would be in keeping with contemporary time. After working hard for seven years, he finally realized his vision for the lampshade.

Although he had started pottery making as part of self expression, at some point along the way, he began to tackle it as the point of contact for society and himself. Hearing Ms. Yazawa of the dining restaurant "Yama-shokudo" mentioning that she could not find plates that were just right", he decided to create plates for the "Yama-shokudo". His "mountain plates" are the results of the collaborative wisdom of a pottery professional and a culinary professional. He said, "a work of pottery is not completed until it is serving the food for which it has been made." Now his plates are being cherished by many diners at the "Yama-shokudo" as the tableware to complement the food there.

It is Mayumi, his wife, who dedicates herself to producing ceramics accessories by his side. All around in their atelier infused with soft light, their favorite accessories are shown quietly. Twice a year, on the day they hold an "open studio", their fans who live in this town, throng their atelier.
Being deeply stimulated by the enthusiastic response of their fans, these two artists continue to devote themselves to their daily creative activities. People can hardly wait for the next creations by the artists who have been nurtured by the town.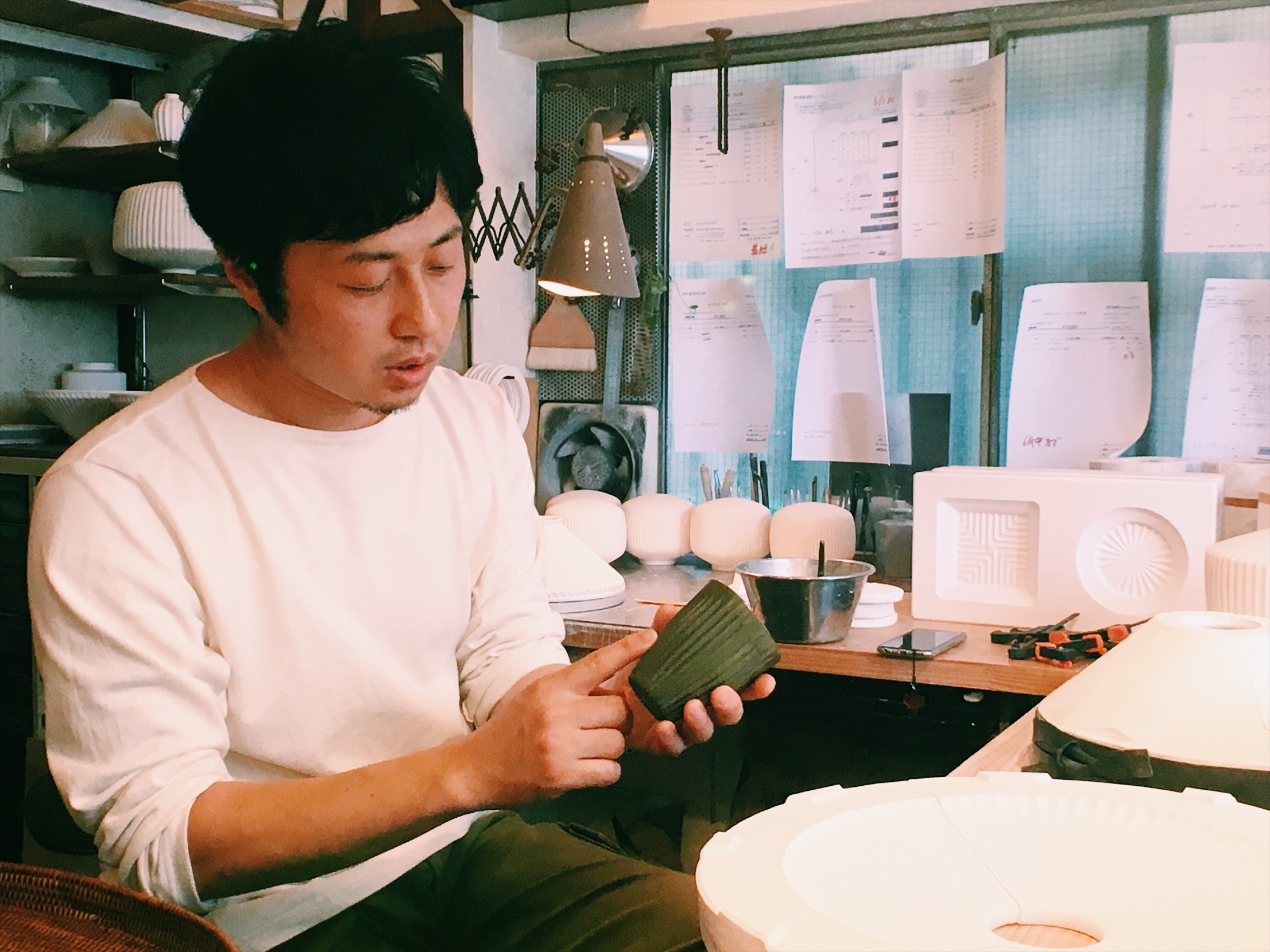 Shop Informations
ADDRESS: gift_lab Kiyosu-ryo102, 1-3-13 Shirakawa, Koto, Tokyo *This spot is not their atelier, but a shop dealing in.
URL: http://tobimatsu-toki.blogspot.jp